Shalom Cohn -
President/CEO
Shalom Cohn was born in Oregon and raised in Japan and Hawaii. She has been a life long learner of peace and sustainable systems for our future generations being a grandmother now. Having worked in the emergency medical field and conscious compassionate communities for decades, she has uncovered solutions with other spearheads tapping into free energy and ancient technologies now becoming in the forefront through solar, wind, water power etc. She brings this knowledge to share with fellow earth lovers to educate ourselves to live a more earth friendly sustainable life for our children.
Machiko Conway -
Vice President
Machiko Malkah Conway, former CEO and President of iam-ced.org, was raised in Japan, is a survivor of the atomic bombs which were dropped on Hiroshima, Japan on August 6, 1945. She is an educator, linguist, artist, poet and writer. She has taught at various educational institutions for the past 30 years. She lives in the San Francisco area and teaches in the Department of Language Arts at the College of San Mateo.
She Was Presented The Teach Peace Foundation Award in 2013. SEE HERE!. Also this year of 2021 she completed an ebook, paperback and hard cover book, Free as the Wind!, an autobiography of her spiritual journey through life which was very fascinating and an enjoyable read. You may view it here for free or to buy by clicking on the book photo which will redirect to Amazon Kindle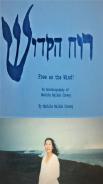 Or you can make a donation of any amount below which is also tax deductible and either way all proceeds will go to helping women and children worldwide. Thank you for your support!
Shyanna Costa -
Secretary
Shyanna was born in Hawaii but moved to San Francisco when she was 9 years old. She is now married and a mother of a 10 year old daughter. Shyanna is currently working as a General Manager and managing three restaurants at the San Francisco Airport. She also has a dog walking business and developing a self sustaining livelihood for her family. Shyanna is dedicated in helping women and children around the world.
Ryoko Nakayama -
Japan Projects Treasurer

Ryoko Nakayama is the Treasurer for IAM-CED.org in Japan. Ryoko says "I always enjoy seeing people smiling around me, so I try to make everyone happy. My mother had a great influence on me for she showed kindness to people around her and she always had a lovely smile and kind words for them. I am very pleased that IAM-CED.org will give me an opportunity to help women and children who need support in their lives."
Brett Taro Conway -
Technical Director of Philippines Projects
Mr. Brett Conway was born in Santa Barbara, California USA. He has worked in many industries including computers and is currently our talented webmaster. Mr. Conway is now married to a beautiful Filipina woman and lives permanently in the Philippines. He loves helping others and enjoy donating computers to remote areas on the island of Cebu.
Click Here To See Photos Of The Computers Donated to The Philippines...SO FAR!
Susan Eijlander -
India Director
Susan Eijlander was adopted by Dutch parents from an orphanage in India. She is now living in France (Strasbourg). When Susan was 20 years old, she had a strong desire to help the poor in India especially the children.
In 2015 when Susan was in India, she contacted a lady who had an orphanage which needed to be renovated. They talked a lot about Susan\\\\'s project in helping the poor, especially the children in India.
Susan now has a website: SEE HERE! She feels that her destiny is to help the poor and needy by bringing His Words and His Torah.
Eva Alexander -
India Director
Eva Alexander, the great-granddaughter of a Hindu priest understands the challenges women face in her country.
The Comforter today is dismantling a vicious cycle of abuse by providing housing for orphaned or neglected children, abusive or deserted husbands, as well as those of former prostitutes.
She pleaded hard in regards to their cases in the police stations then in the courts. Shortly soon after she had become renowned as a champion fighter for womens rights through politics and union activities. Later In 1980, she was then viewed as an established recognized figure to have her nomination for senator in the national parliament graciously accepted.
Eston Mgala -
Africa Director

Eston Mgala is a dedicated young Malawian Permaculture Specialist with 10+ years of experience and expertise in grassroots, sustainable Community Development. The majority of his work has been in Natural Resource Management and Food and Nutrition Security through Sustainable Agriculture. He is a devoted, highly skilled, hands on kind of guy whose proficiency includes Social Work, Forestry and Agroforestry, Water and Soil Management, and various aspects of Community Livelihoods Programs in the villages.
Ikuko Patricia Yuasa PhD -
Project Director

Ikuko Patricia Yuasa earned a PhD in Japanese language at the University of California, Berkeley. She has nearly 15 years of experiences teaching all levels of Japanese at major U.S. institutions. Her interests include phonetics, sociolinguistics, comparative culture, and language education. She is the author ofCulture and Gender of Voice Pitch: A Sociophonetic Comparison of the Japanese and Americans (Equinox Publishing, 2008). Her publications include an article reporting the socio-cultural usage of creaky voice in American Speech (2010), part of which was introduced in Time Magazine and in The New York Times.
Kayla M. Costa -
Junior Project Director
Kayla M. Costa attends Middletown High school where she receives top honors. She loves to listen to music, reading books, and love all types of animals, especially horses. She had been involved with IAm-ced.org since 2009, where one of the times she participated at a Flower Concert Fundraiser in Japan and danced the Hula. She has a website where she is into
Duct Tape Arts
and donates 10% of all her sales to IAm-ced.org.
Tomoko Sato -
Web Developer

Tomoko Sato was born in Kokura in Kyushu, Japan. She is an artist and photographer, and has published poetry books and short stories since 2003. After becoming a member in 2008, Tomoko contributed her talent by creating the IAM-CED.org Japanese Website blog. She was honored for her works and received a Certification of Merit from IAM-CED.org.